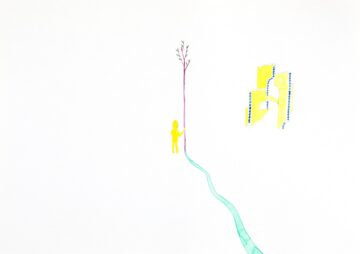 Júlia Vécsei's latest solo exhibition at Kisterem focuses on a fairytale world and its stories. The watercolour on paper paintings show floating situations – buildings, installations, plants, and translucent yellow figures in between. Some details of the magical scenes appear several times, creating associative stories as variations of each other.
As in Lajos Gulácsy's Na'Conxypán, this dream-like world is for Vécsei a representation of desolation and the exit from reality. The experiences of the last three years, the unpredictability and isolation, led Vécsei to begin working on a series of indigo drawings (Closed Spaces, 2021-2022), which dealt with the limitation of communication and the anxiety caused by the situation.
After this series of monotonous, repetitive work, she created a much more intuitive, detached world in the Experimental Break series, many of whose elements were inspired by Vécsei's dreams.